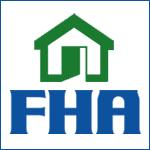 2017 Update: See updated info here: 2017 Ohio FHA Credit Requirements 
MAY 2013 UPDATE: I have received quite a few emails and phone calls recently regarding FHA loans and credit scores of less than 640.  While I still have access to one lender whose guidelines allow for scores as low as 580 for maximum financing (3.5% down on a purchase or 2.25% equity for a refinance), it has been getting more and more difficult to get these loans approved. A few things that may be required are rental history (cancelled rent checks for 12 months), debt ratios less than 43%, no negative credit after a major derogatory event (bankruptcy, foreclosure, auto loan repossession), and in some cases collection accounts will need to be paid.  Also, the lender will want to see at least 3 open, active, good credit accounts that have been active for 12+ months. In some cases they will allow alternative credit accounts (12 months pay history on things such as utilities, auto insurance, etc.)
FHA mortgages have rose in popularity over the last few years. Some attribute the increased demand to the void that the subprime market left. The increased demand for FHA mortgages in Ohio may also be due to the lower credit score requirements compared to its Conforming (or Conventional) counterpart.
Let's look at the Credit Score requirements for a few different FHA mortgage programs in Ohio. To check what options you have available for an FHA loan in Ohio head over to the FHA Rate Quote Request page and fill out the simple form (no social security number required). Make sure you keep in mind that FHA sets the minimum standard, and individual lenders are free to impose more strict guidelines, which most do in regards to credit scores.
HUD has set the following minimum requirements for FHA mortgages:
Credit Score of 580 and above – eligible for maximum financing (96.5% for purchases and 97.75% for refinances)
Credit Score of 500 to 579 – limited to 90% financing
Credit Score Below 500 – not eligible for FHA insured mortgage financing
Borrowers with non-traditional or insufficient credit – may be eligible for maximum financing if they can document 12 months of satisfactory credit history including no history of late payments on rental payments, no more than one 30 day late on payments to other creditors, and no collections or judgments filed in the past 12 months
So that is the minimum standard that HUD has set for Ohio FHA mortgages, both purchases and refinances. Now, lets look at what lenders in the real world have set for FHA credit score requirements.
Ohio FHA Mortgage Credit Score Requirements
Most main stream lenders have imposed minimum credit score requirements for FHA Mortgages in Ohio at 640, with a few going slightly lower with a 620 minimum score.
Some smaller lenders are offering FHA Mortgages down to a 560 credit score. However, a credit score of 560 to 579 will cap a borrower at 90% financing. Also, most lenders that are offering Ohio FHA home loans for credit scores below 640/620 will impose some additional requirements including, but not limited to, documenting 12 months mortgage/rent payments via cancelled rent checks, setting a maximum acceptable payment shock (your existing rent/mortgage payment compared to the new housing payment), setting a minimum amount of assets needed after closing (commonly referred to as reserves), etc.
There are exceptions to the rules, and new lenders are entering the market here and there, so use this as a guide to help you get started when looking into an FHA loan. If you are concerned about your score and your ability to qualify for an Ohio FHA mortgage, give T.C. Strait a call at 513-777-8383 and we can discuss your options and review your credit report.